© 2020 All rights reserved.
Work from home desk setup 2021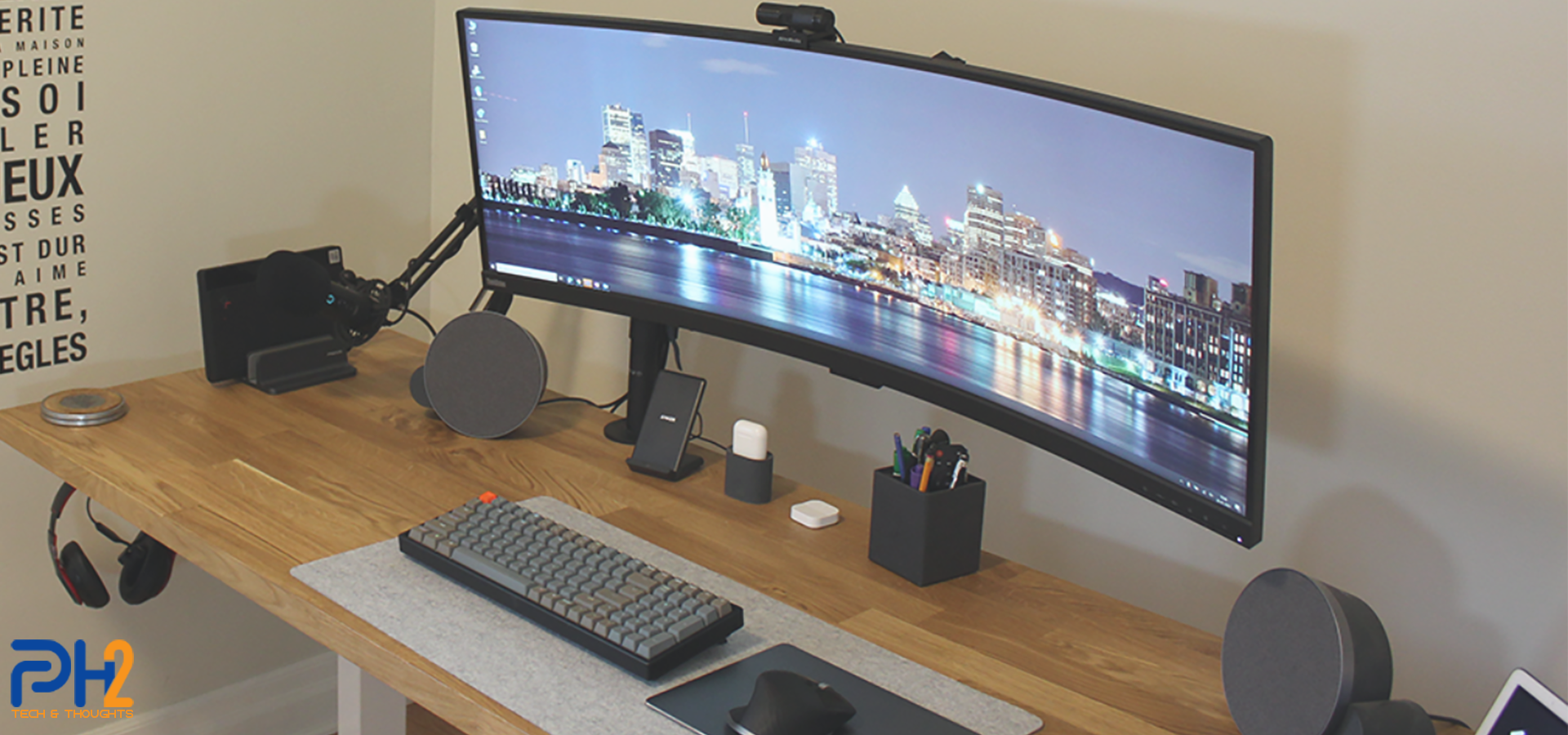 Hi I'm Patrick Hardy and  today as my first post on this blog I wanted to show you my desk setup for working from home in 2021. The idea of remodeling my office really started a few months before the pandemic hits, in august of 2019 if I remember correctly. At that time, I got an opportunity to put my hands on a monstrous monitor through a friend at Lenovo. Since then, I had to change my desk to accommodate a monitor of that size and complete the whole setup to face the fact that I am working from home most of the time now. By the way everything on this desk has been acquired by myself and I will review most of the tech presented here in coming posts. If you whish, let me know in the comment below which one you would prefer to see first.
So back to the monitor, this is a Lenovo ThinkVision P44w-10 43.4 inches ultrawide 32:10 curved display. It is the business productivity version of the same monitor on the Legion gaming Lenovo brand, the Y44w-10. The screen resolution of 3840×1200 allows for a lot of screen estate. It has one USB 3.1 upstream port and three USB 3.1 downstream ports, two HDMI 2.0, one Display port 1.4, one 3.5mm audio out and two USB 3.0 type-c ports that can provide up to 90W of power output. As an IT Director, I don't really need all that screen resolution since I spend most of my days in emails, the Office suite and Teams or Zoom meetings. I am no developer or graphic artist, nor a video editor, but I have to say it is very pleasant and productive to be able to have multiple application windows opened side by side. The base has height adjustment, can swivel left and right as well as tilt forward and backward. With a 43.4 inches diagonal size, this monitor is huge! It is 41.43 inched wide and 12.94 inches height. So to get more desk space and create a floating feeling, I installed it on a monitor arm. I chose a basic Amazon arm from VIVO and even though the description says it is for monitor from 13 to 27 inches, it also says it can hold 22 pounds. As the monitor weights just a little over 21 pounds and I saw a few follow youtubers installing 32 inches monitors on similar arms, I went for it and the result is great. It gives the monitor the floating look I was looking for, but it also gives me a lot of space on my desk for accessories to which we'll come back later.
Get the Lenovo ThinkVision P44w-10 from Amazon (US)
As I said, I spent most of my days in meetings and needed a Webcam. When the pandemic happened, those where nowhere to be found. I converted a Wyze security camera in webcam with the new firmware provided by Wyze but my colleague were always making fun of the fish eye look it produce. I finally found a webcam we had on the shelves at my office and it has served me well since. It is a AverMedia Live streamer Cam 313 with a 1080p resolution. There is a built-in mic and a built-in shutter for privacy.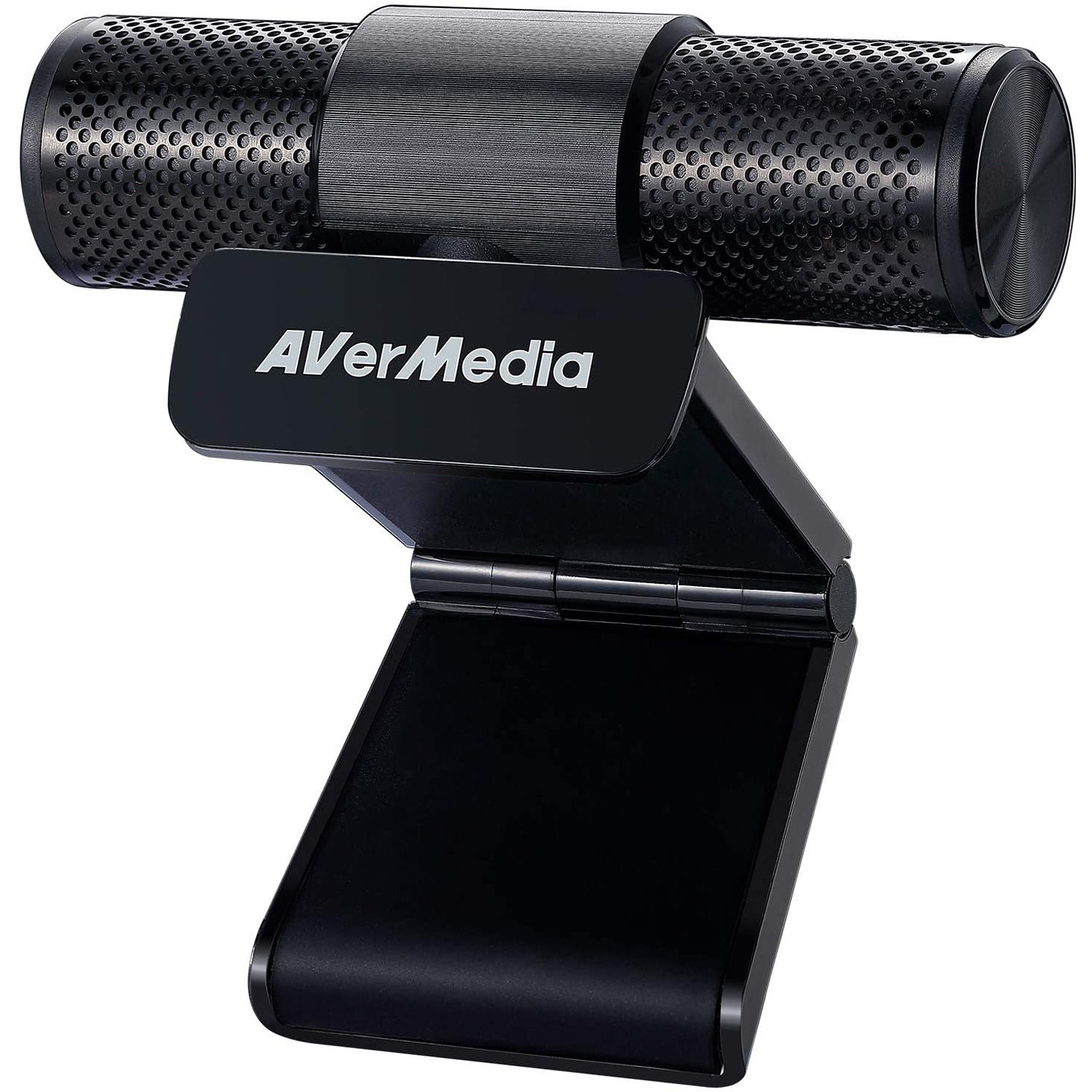 Get the Livestreamer 313 from Amazon (US) – Amazon (CA)
I recently also added a LED light small panel on top of my monitor as the ceiling light was not good enough for my online meetings. With this LED panel and white filter, it gives me a more natural look. It is attached behind the monitor with a flexible arm. It is very practical as when I am not using it, I can just hide it behind the monitor. Now it is powered via USB and plugged in a little hub that I fixed with double sided tape on the back of the monitor. I would love to be able to turn the light on and off from my computer but I did not found a solution for this yet and still have to click the on/off button.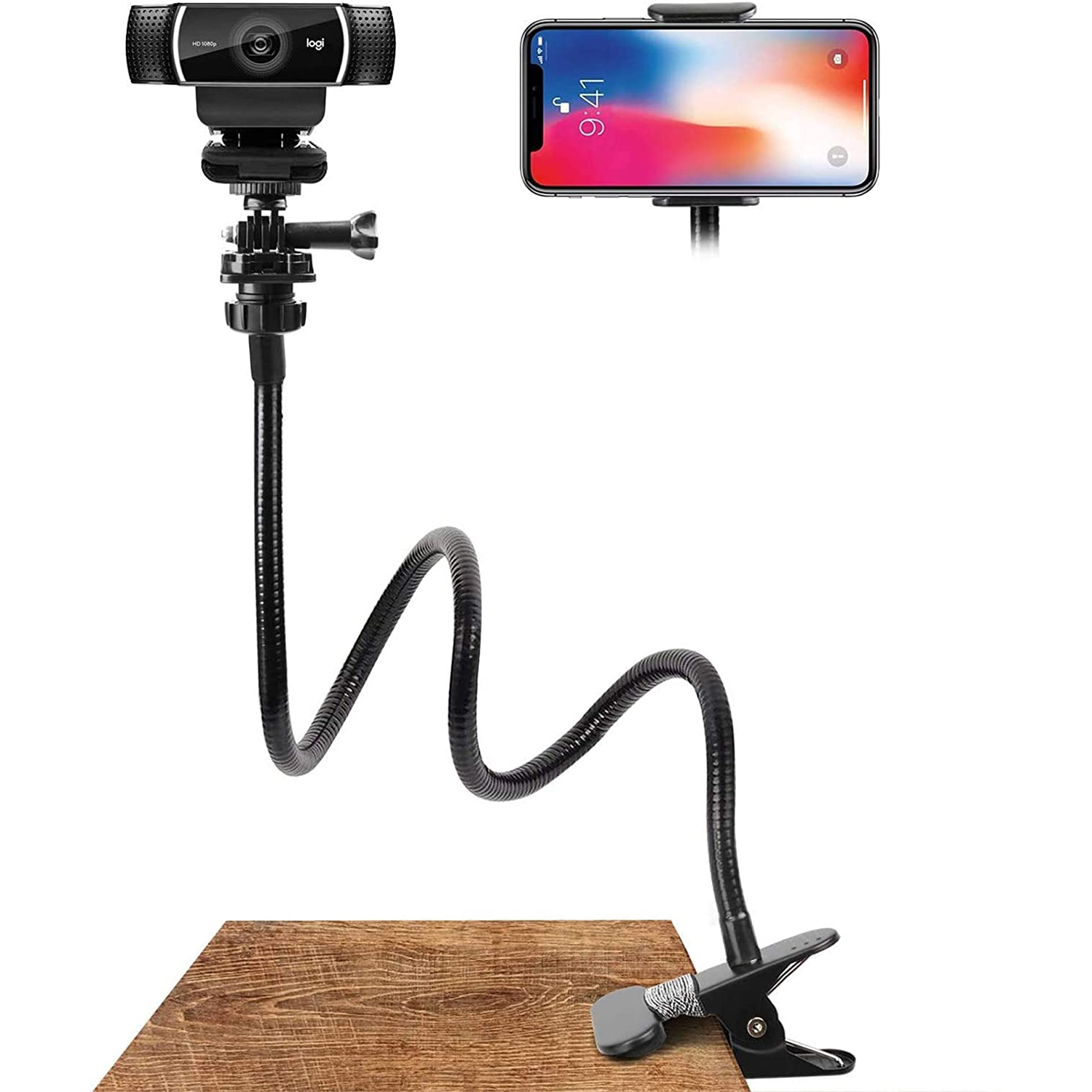 Flexible arm from Amazon (US) – Amazon (CA)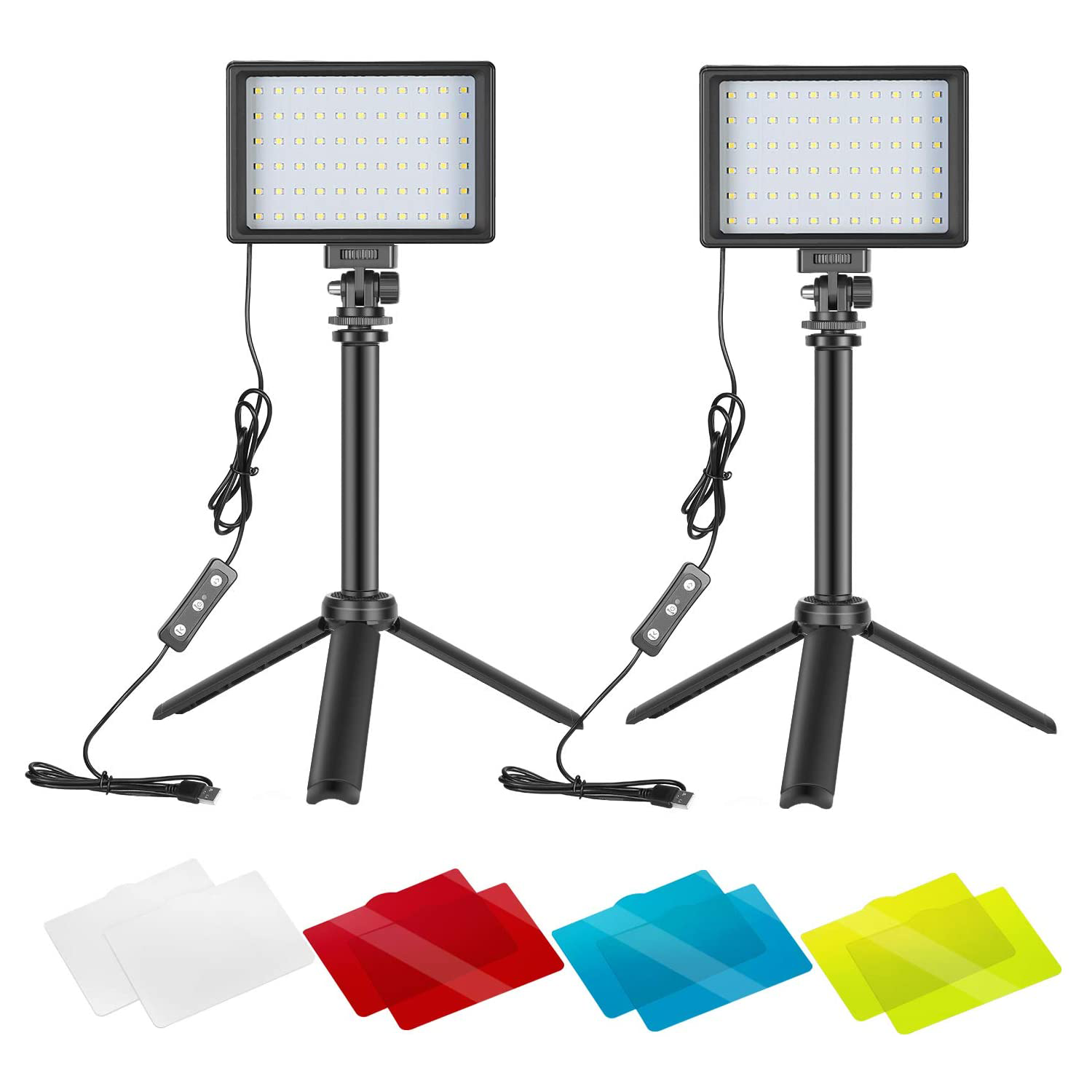 LED light panel from Amazon (US) – Amazon (CA)
For sound, I have a pair of Logitech MX sound speakers that I connect via Bluetooth. The sound quality is more than enough for me. Anyways with my office being on the main floor of the family house, it is not like I would want to blast the volume for everyone to ear! You can also connect those speaker through an Auxiliary stereo cable if you whish. For less than 100$ they are perfect for my needs and I also think they look good on my setup with their space grey color.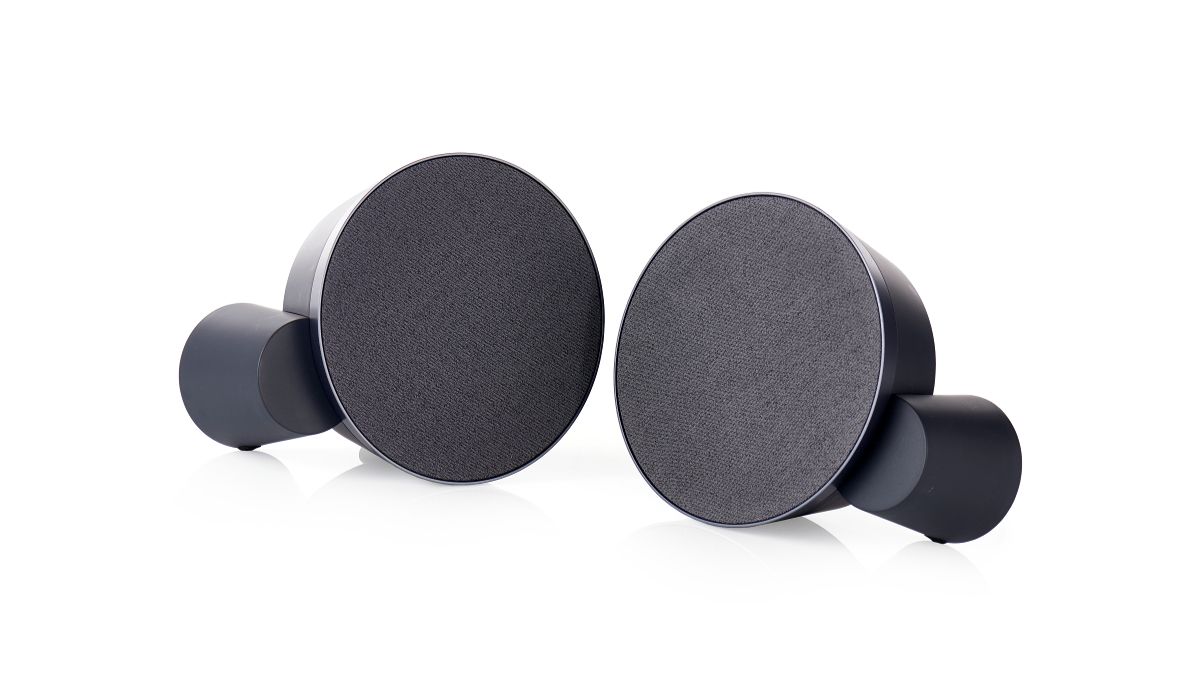 Final part of my conference call setup is the addition of a USB Mic on a boom arm. The mic is from a starter kit by Maono. It is AU-PM422 cardioid mic. It came with the boom arm and the shock mount as well as a Pop filter and windscreen cap. I use the latest as the pop filter does not add much for my use and takes much more space. I went for this kind of mic for 2 reasons. The first one is the sound quality. Built-in webcam mic are ok but a cardioid mic makes a nice difference in your conference call. Also, the fact that it is on a boom arm, I can bring it closer to me and especially on the top side of my mechanical keyboard to minimize its sound if I have to take notes at the same time I'm talking in a conference call.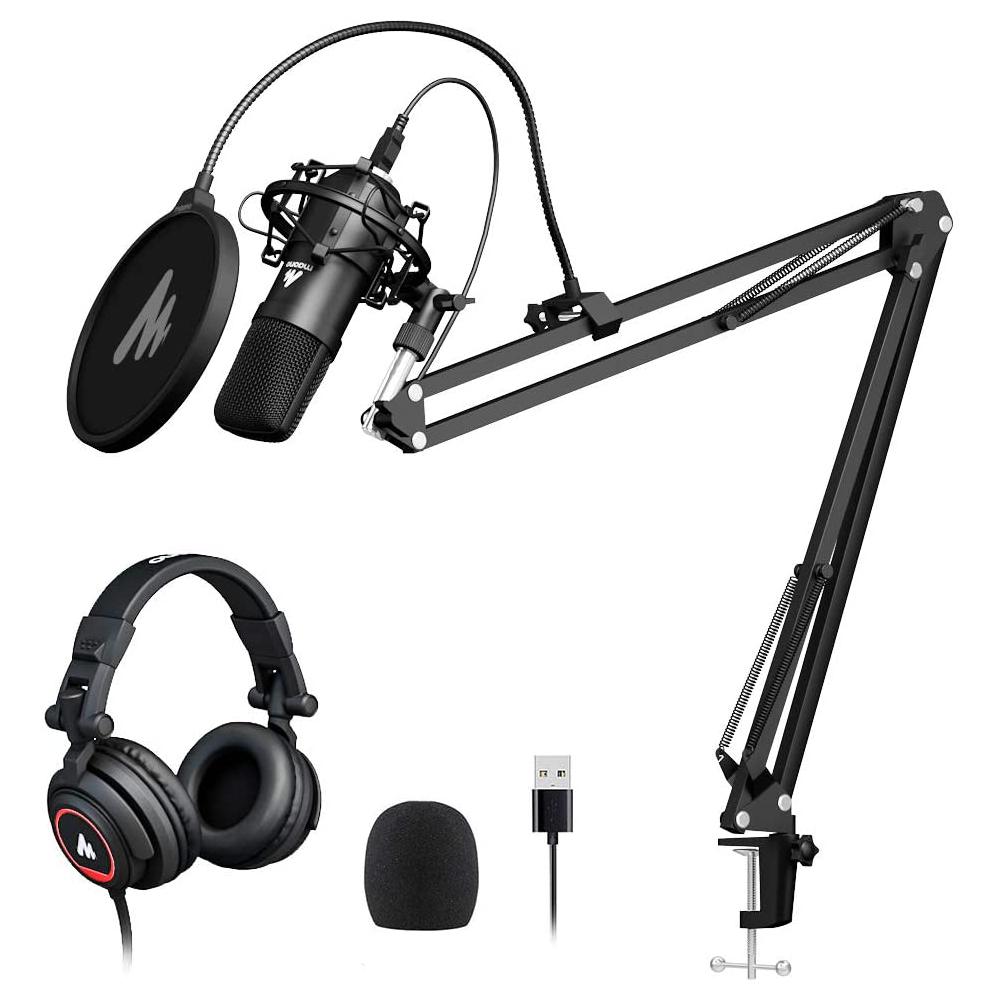 Maono Mic from Amazon (US) – Amazon (CA)
My keyboard is a Keychron K4 mechanical with brown switches. The sound is very satisfying but can get annoying for your co-workers. I really like this Keychron since it is compatible with my Windows work laptop and my Apple MacBook personal laptop. It is Bluetooth wireless or USB-C. I chose the K4 for its numpad since as a manager I often have to work in excel spreadsheet budget. Its form factor is 96% of a full size keyboard which needs a little adjustment at the beginning but it very easy to adapt. It also has RGB lightning which helps when using it in low lights situation. I have two complaints about this keyboard, the first and more important one is the time it takes to wake up after going to sleep. I always have to type my password more than once or tap a few times on key to wake it up. The second one is the height of this keyboard. Some of you might found it a little to high for their taste. You can add a palm rest to mitigate this or look at their K1 or K3 low profile mechanical keyboards.My mouse is the classic Logitech MX Master 3 mouse for MAC. For those of you who wonder, the Windows and MAC versions are exactly the same except for the color. I obviously had to go with the space grey as you realized by now it is a theme on my desk! I hold on a long time before getting this mouse even though everyone on the Net seemed to praised this like the best mouse out there. I used an Apple magic mouse, a Logitech trackball that I still have at the office, an Apple trackpad and even a Microsoft Surface Arc that I still use on the road for it's portability. But when I finally took the plunge and got that MX master 3, I now understand what was all the fuss about. The precision, the ergonomic, the touch and feel of this mouse is amazing. Add to this all the personalisation you can set for its multiple buttons is great. Like I said, I'm a business IT user and did not configure it all but just the fact I can control the volume of my speakers from the side wheel is an incredible time saver for me. Scrolling, controlling application windows, toggling between apps are just simple customization that can change your life in the way you work. Good job Logitech.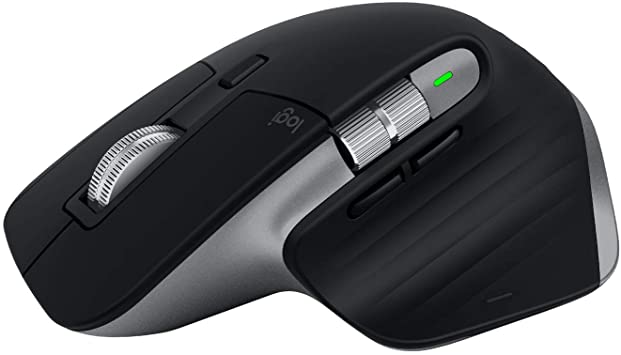 Logitech MX Master 3 for MAC from Amazon (US) – Amazon (CA)
Now getting to my computers. As an IT director for a larger corporation, I am a Windows user by day and Apple OS by night. My main work computer right now is the head turner Lenovo X1 Fold. It is connected to my setup by a single USB-C cable. I have a lot to say on this laptop or technology development exercise by Lenovo I would say but I will keep this for a dedicated future post. I still can say it is an Intel Core i5 1.4 ghz CPU with 8 Gigs of ram running Windows 10 Enterprise. There is a 256 gig SSD drive but most important it has a foldable touch screen of 13.3 inch. It has two USB-C ports. I also have the Bluetooth keyboard and pen combo for when I'm on the go. My personal computer is a 2017 MacBook "in space grey" with 16 gig of ram and a 256 gig SSD drive. It is a 12 inch screen and powered by an Intel 1.3 ghz core i5 cpu. Like you must know already, it has a single USB-C type port. Both computers share the Keychron Keyboard and the MX Master 3 mouse as both can be connected to 3 Bluetooth devices. It is easier to switch from one to the other on the keyboard as it is done through a combination of keys while the mx master has a little button under it. The Logitech MX Sound speaker can also have simultaneous Bluetooth connexion so are used on both computers. Finally, like mention earlier, the Lenovo Thinkvision has 2 usb-c connector with an easy source button in front to switch between computers. I can even do picture in picture or side by side if you want to use both computers at the same time. My laptops sit in a stand by Mosiso that I got on Amazon and available in multiple color. Obviously, I got it in space grey!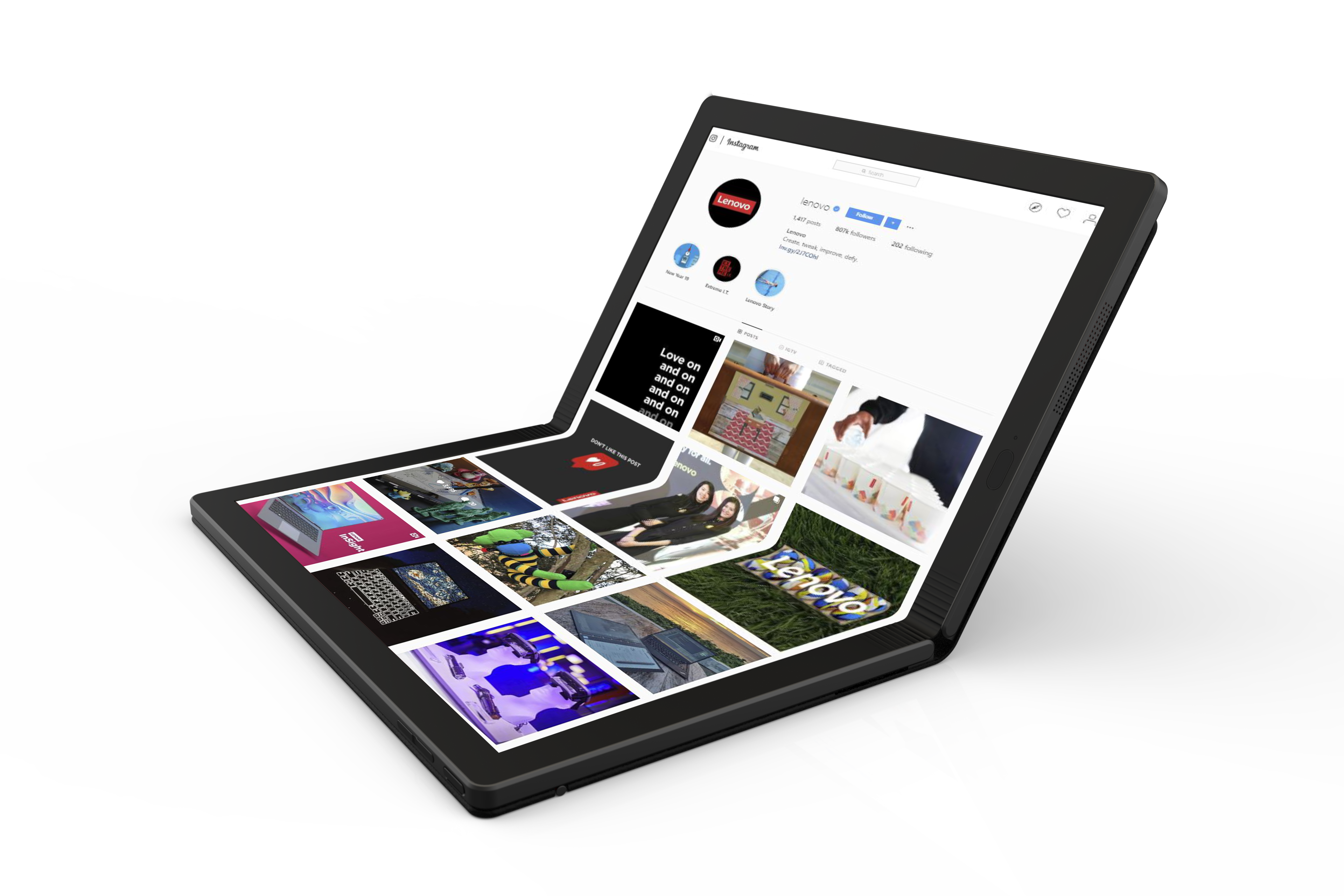 Lenovo X1 Fold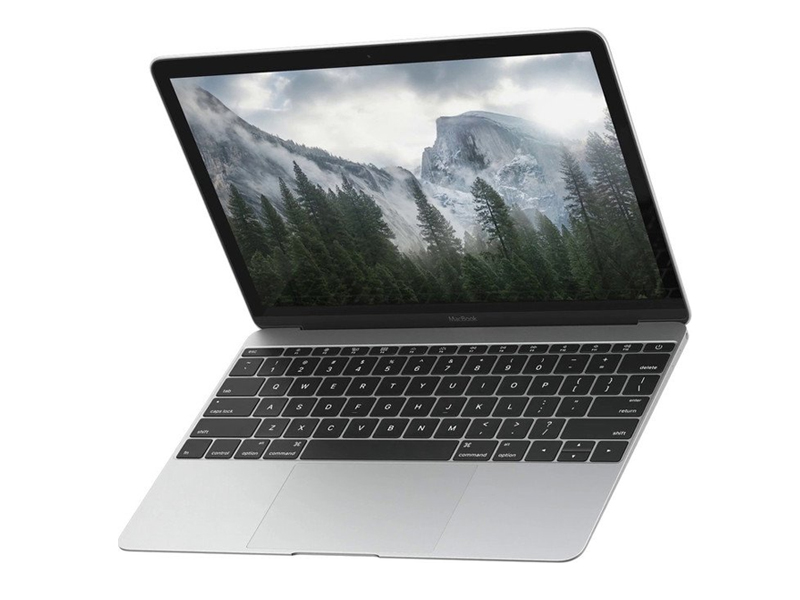 Apple Macbook
The last important piece of tech on my desk is my Google Nest Hub that serves mainly as an alarm clock, a radio or a Spotify speaker but also to control my smart home devices and Wyze cameras. I used it mainly with the Google voice assistant as it stands at the far right of my desk so not very at arm length to use its touchscreen functionalities.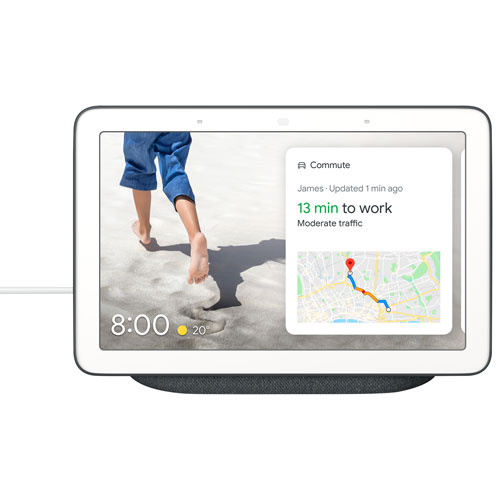 Before I get to the desk itself, let's take a look at a few accessories like my wireless Anker charger. I like this particular model since it my phone is standing on it so I can see my notifications as I work. My current iPhone is a XR red product. The XR is not the latest one out there but it serves me well and I really like the red apple product. Next to it is an Airpod charger in space grey. They are first generation Apple Airpod and don't really hold their charge long anymore so I use them rarely these days. I tested a few replacement and finally settle on OpenMove Aftershokz which I'll discussed in a future post as well. The Ikea Tradfri button works with my smartthings smart home installation and controls a Sengled strip behind the desk and a stand lamp behind me. Last item under my monitor is a pen holder. Like everything else, you can see the space grey line is a common theme on my desk. Under my keyboard is a wool light grey mat to protect the desk. When I first got it I thought the mouse was not moving well on the wool so I added a Satechi aluminium mouse pad. I like the look but I am still not sure about the sound of the plastic on the aluminium when I move the mouse around. It can be a little noisy. The mouse is now back to its pristine precision though.
Under the desk, I have a dual headphone hanger with my old abused Studio 3 Beats that really needs replacement and my airpod replacement Aftershokz open move. The hanger is made of silicone and the original double sided tape lasted a week with the weight of the Beats. I upgraded the tape to a Scotch Double Sided Foam Heavy Duty Tape and now everything stays into place. I liked my Beats because of the W1 Bluetooth chip that allows me to go from my Mabook to my iPhone to my iPad without pain but I have to say they are not the perfect over the ear Headphone for the price they cost back in the days. They are comfortable but heavy, the plastic is cheap and cracked just by folding them to put them away in their case. The battery life was ok at first, but after more than 2 years It does not hold on more than 2 hours of listening to music. I like their noise cancelling feature though for when I need to stay productive and I get into my world. On the other side of the hanger I have my Aftershockz OpenMove. I gotta say that this is my favorite piece of tech in the last few months. I'll make a dedicated post. I don't like ear plug headphone type. If I need to be isolated, I prefer over the ear headphone with noise cancelling feature. With in ear headphone, I like to be able to have a little awareness of what's going on around me. Classic cable in ear headphone with their poor sound quality were perfect for that. That's also why I like my first gen airpod so much when they came out. They felt like classic cable in ear headphones without the hassle of the wire. They were great in my ears and I was using them for my daily jogging run. Now that they can not hold their charge I was on the hunt for replacement unit. Long story short, with the new airpod being ear plug and not wanted to pay the full price for an old generation product like the classic airpod, I tried many knockoff in ear headphone without success until I found those AfterShokz. They sit in front of your ears as they are open-ear using bone conduction technology. I was sceptical at first but I have to say those are almost the perfect headphone for runners. Sound quality is good enough for music, but for podcast or audible book they are great. When you run, you can hear cars or important sound for your safety and still enjoy your favorite podcast. My only complaint is when there is too much wind or ambiant sounds, It can be a little difficult to ear what you are listening too. Any ways, great product, more on it in a future post.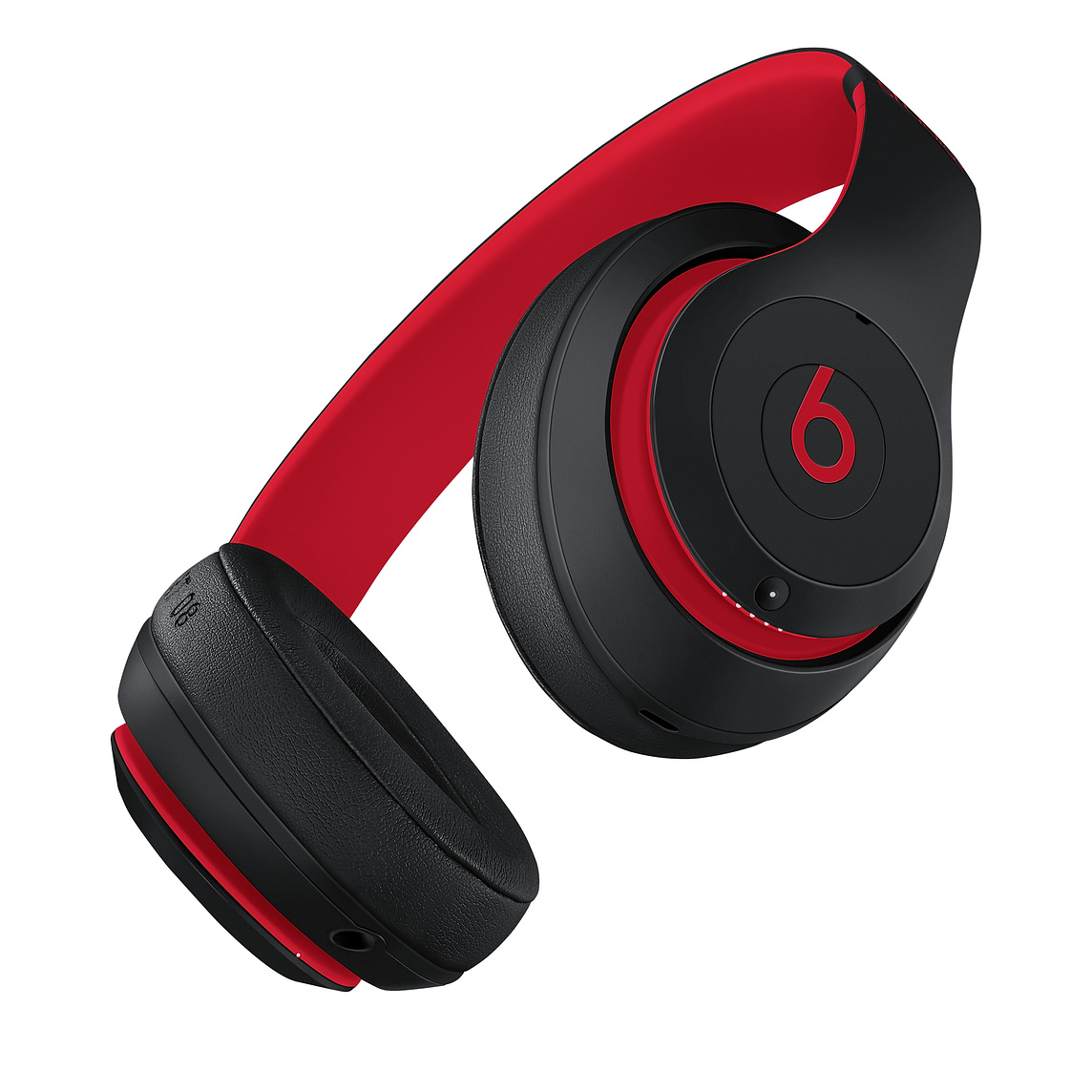 Beats Studio3 Wireless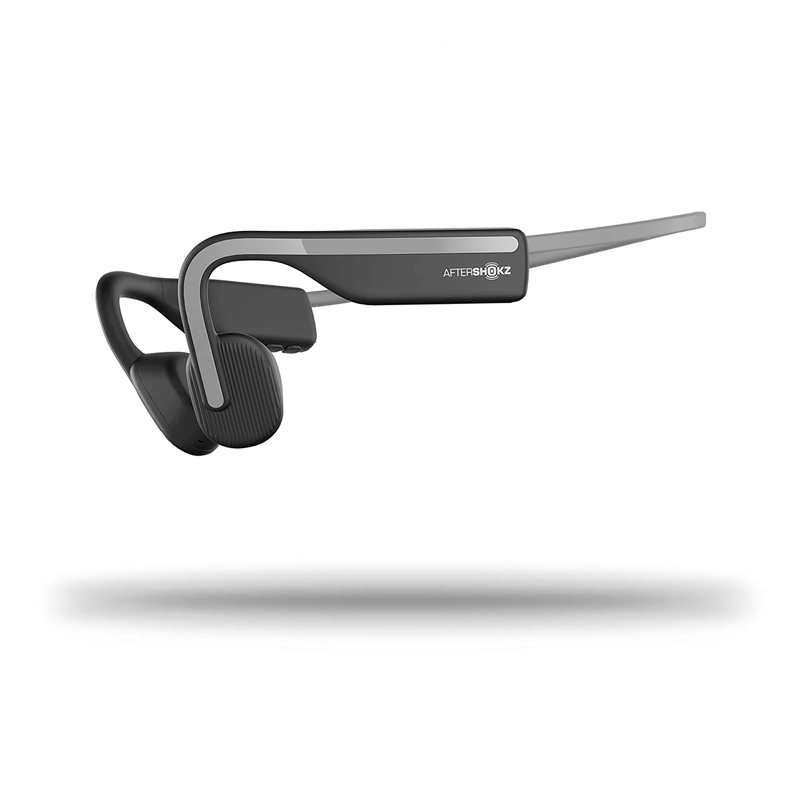 AfterShokz OpenMove from Amazon (US) – Amazon (CA)
So for the desk itself! If you watched a few desk setup videos on Youtube you will recognize the infamous Karlby Kitchen countertop in oak. This desk as more than 6 feet long and 25 inches deep. It is also a inch and a half thick so strong enough to hold the monitor arm and any weight you would put on it. The legs are from a local online provider called Primecables. It is a sit stand desk with dual motor, strong enough to get the whole thing up. I tried to use it standing at least once a day, mostly in the afternoon after lunch when my productivity can drop down. If you don't want to do cluttered work, don't work in a cluttered office, so cable management is key. And with a standing desk, it is even more important since you want everything to move in unison when the desk moves up and down! Here the legs have a built in cable tray where I stuck all cables. I also screwed my power bar directly under the desk for easier access and cable management. I use cable clip to make sure everything is neat and to hold the single cables that I connect to my laptops.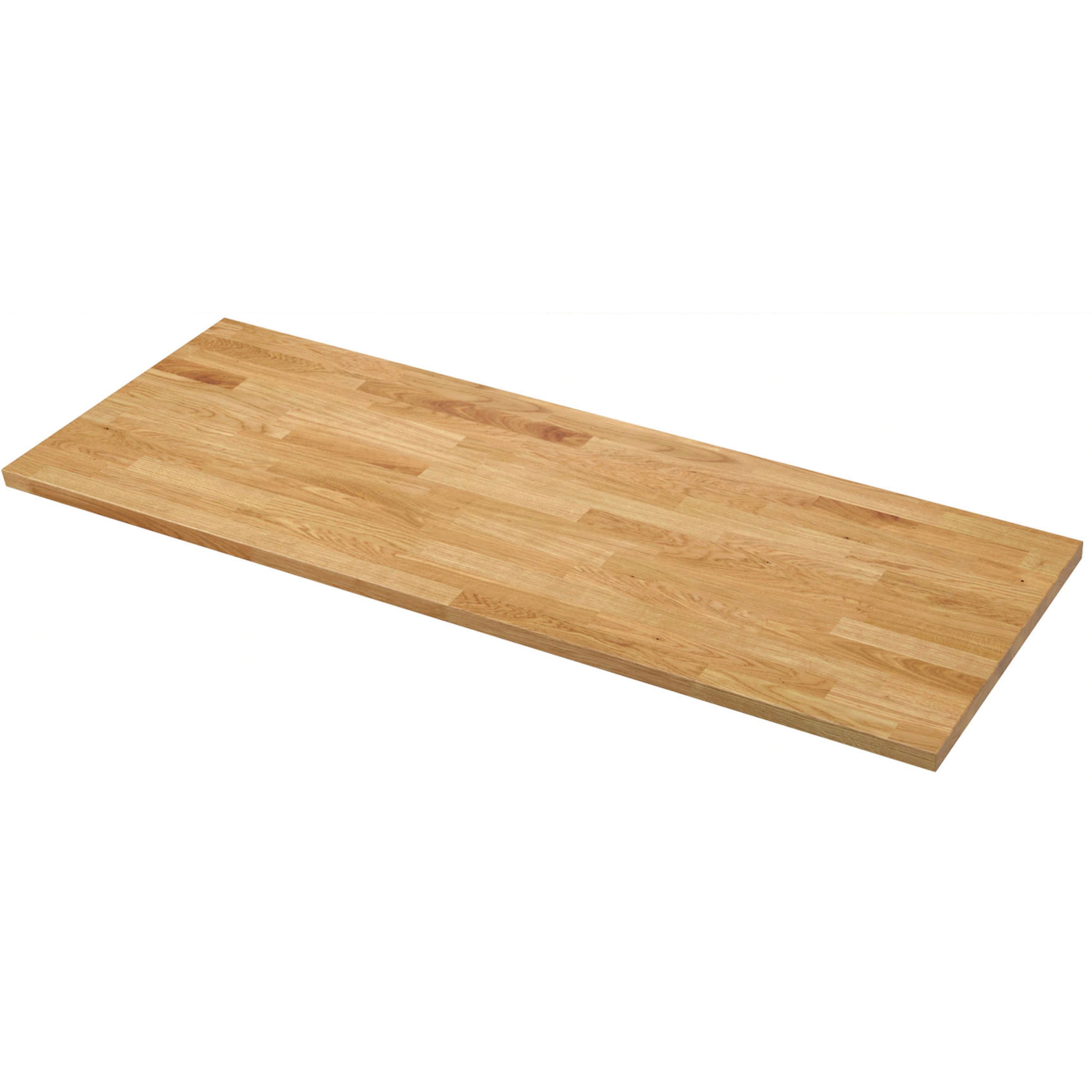 Karlby countertop in oak by IKEA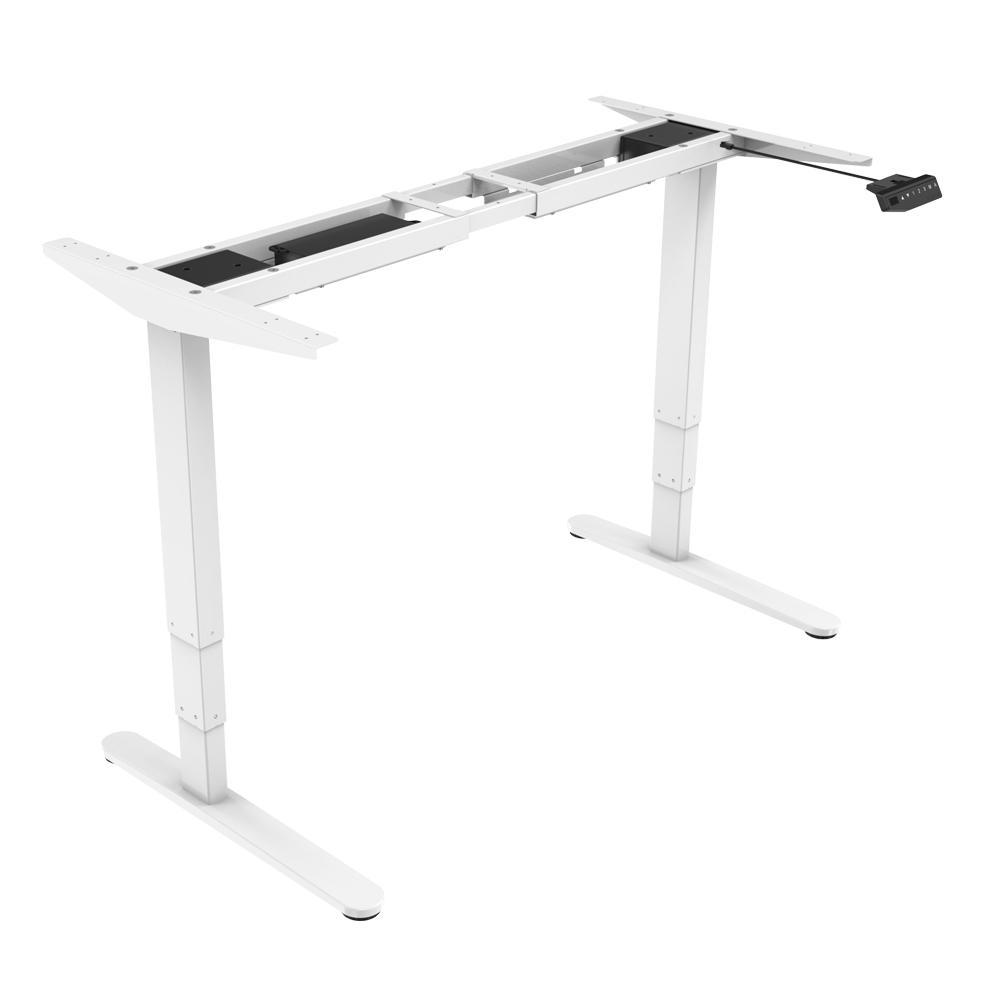 Sit Stand desk legs by PrimeCables
My chair is from a local manufacturer that specialize in workplace solutions called Rouillard. I got it back in 2013 shortly after we first moved in the house. It is the Lead model and it seems it still exist on their website, see the link for more information. There is a lot of available customization for this chair. When I first setup my office in 2012, everything was white so the chair seat was white. After a few years, it showed it's age so when I started working from home even more I had it recovered in gray to match the whole setup. The guy I took it to covered it with a fake leather made for motorcycle bench, it should last for a while. The chair is fully ergonomic with lumbar support, up, down, left and right arm rest, sliding seat, and so on.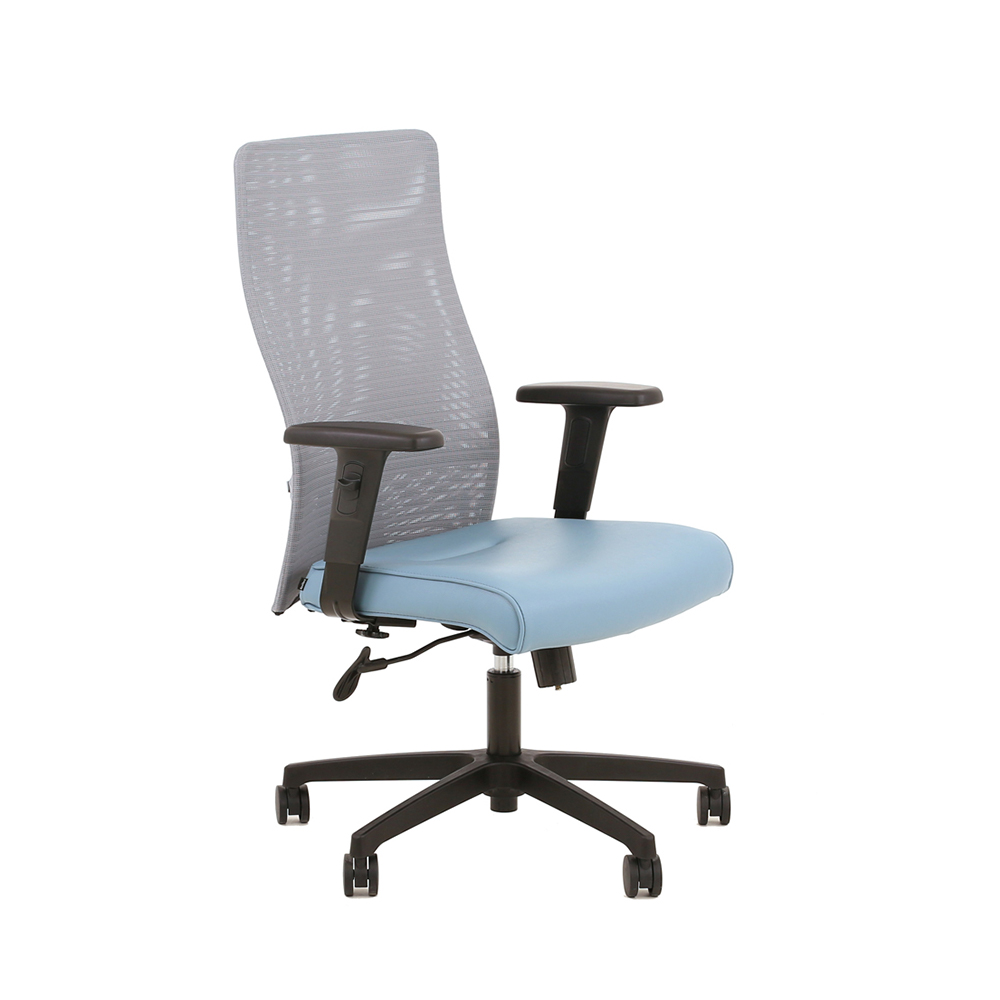 I realize I did not talk about the decorations on the wall. Behind my desk I have 3 frame from Displate. The first one is an IT reference joke, the middle one is to remind me of my younger days when I played with space Lego and the last one are quotes from Friends, one oy my favorite Comedy Show! For those of my age who are Lego and StarWars fan, you will recognize an adaptation of the Original Lego Space Logo adapted with a Death Star and a Millenium Falcon. On the side of the Desk I have the House rules that I won't translate for you since they are in my native language of French but I think there is an English version of this decal somewhere on the Net.
So this is it for my work from home office setup tour, hope you enjoyed it.